Introducing Folk Army Ranks (FAR)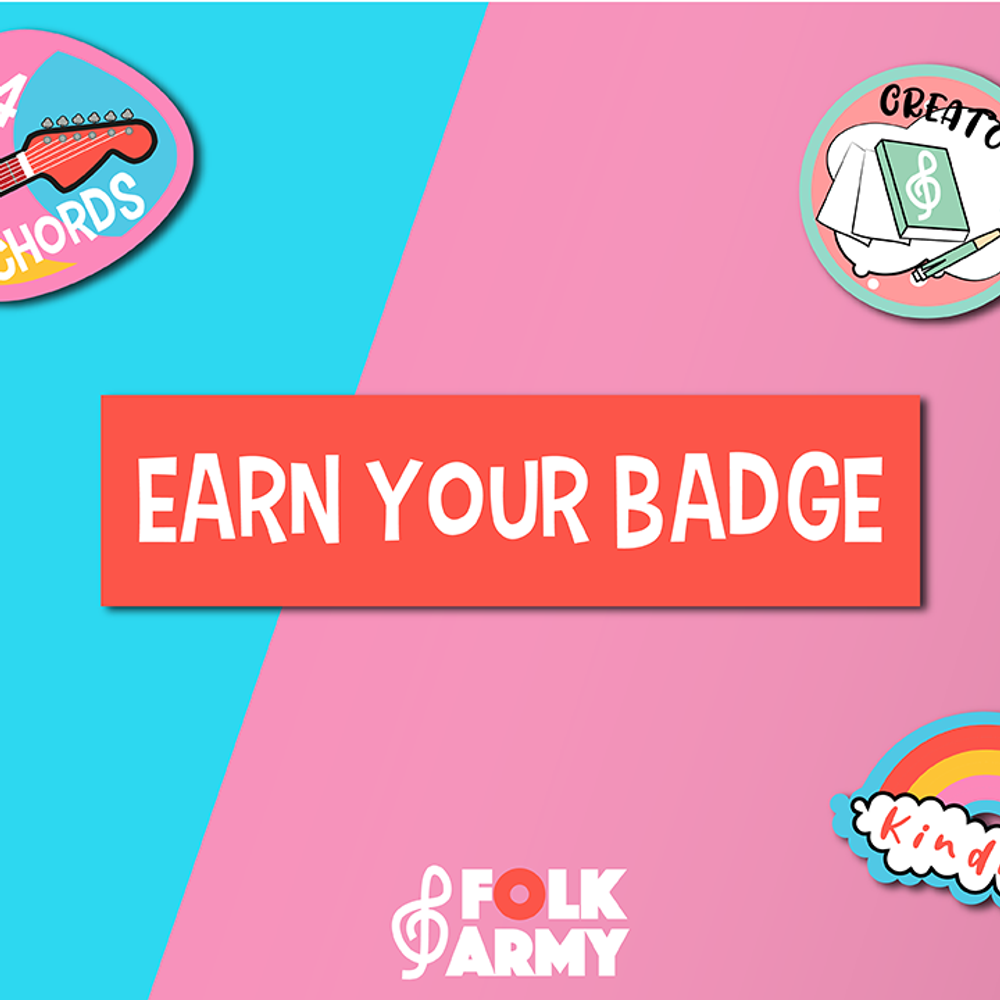 COMING SOON!
The Most Stylish Guitar Badges Designed Just For You
Earn a variety of custom-made guitar strap badges specially designed to highlight your individual successes.

With Folk Army, your bravery, kindness, and passion are your greatest weapons, so put on your combat boots and pick up your guitar, because you're about to embark on a campaign that could change your life!
Take a Sneak Peak 💫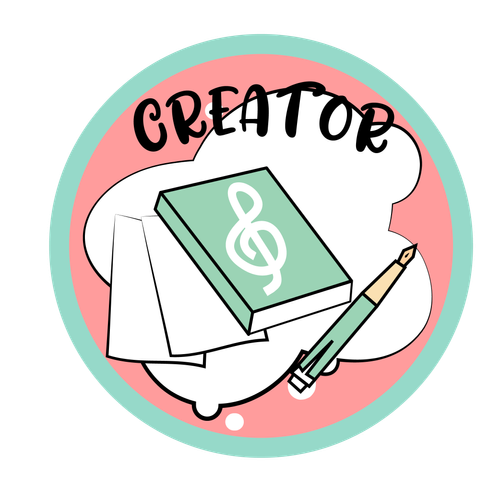 Creator
Creative troopers know that following orders isn't the only way to success on the battlefield — writing your own song, melody, or performance is a great way to make use of your artistic talents and develop your own unique style!
Cadets can earn this badge by creating and performing their own original song.
Whether by themselves, in a team, with an instrument, or just with their own vocal chords, the Creator badge signifies that a trooper is eager to start off on a musical path of their own, and has the bravery and initiative to show that creative passion to their peers. Collecting this badge is one of the first steps to a personalized music career, and displays talents that only you possess.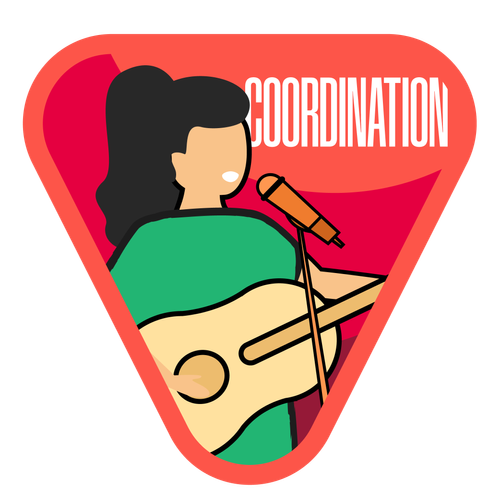 Coordination
Music is all about harmony — including the harmony between instruments and vocals. The "Coordination" badge demonstrates that you understand the careful balance between singing and performing, and realize that one isn't complete without the other.
Troopers can earn the "Coordination" badge by singing and playing a complete song to an instructor at the same time, and keeping a steady rhythm and melody throughout.
Remember that good musical coordination takes practice, dedication, and experience — all qualities that our advanced troopers and mentors possess plenty of. If you're after this badge, try reaching out to your fellow troopers for their assistance, and you'll discover that harmony between performers, mentors, and audience members is important, too. We can't wait to hear what you'll play for us next
Skill Badges (Chords, Notes, Strumming, Finger Picking)
Looking to test your abilities, trooper? Take on one of our Skill Badges in Chords, Strumming, or Finger Picking! Using the Folk Army Ranks' new digital education system, you'll strum, pick, or pluck your way through a variety of online courses designed to develop your abilities in the comfort of your own home.
Whether you're a beginner, novice, or guitar-playing pro, the FAR program is a great way to employ your skills and gain insight from your expert-level instructor.
Once you've completed each course and its accompanying evaluation, you'll earn one of eight Skill Badges that can show off your achievement right on your guitar badge! Each of these badges symbolizes your willingness to learn, patience, and passion for playing music.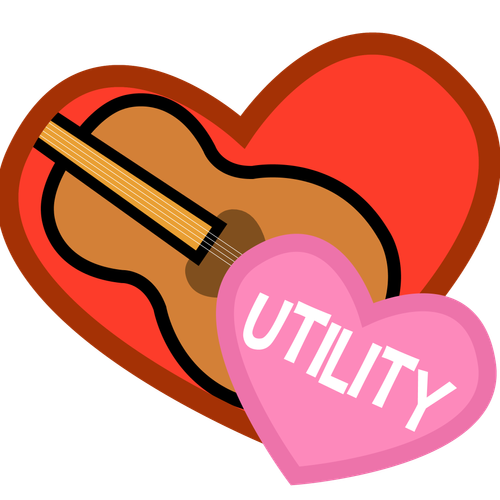 Utility
Like any good soldier, Folk Army troopers need to keep their equipment in tip-top shape to make sure they're ready for the battlefield. Remember, your instrument is your key to artistic expression and creative freedom — and if that key isn't properly cared for, you might be locked out of a great opportunity at a critical moment.
Troopers can earn the "Utility" badge by ensuring that their instruments are always kept clean and well-maintained, are played and handled properly, and are taken out and put away with care.
Collecting the "Utility" badge is an excellent display of maturity, responsibility, and respect for your instrument. Remember — if you keep your instruments happy, they'll do the same for you with amazing sound and motion.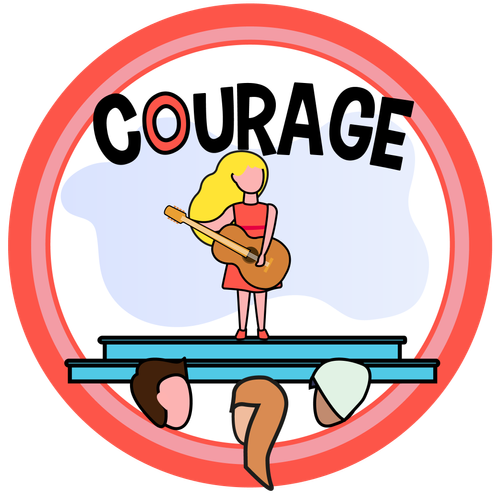 Courage
Prepare yourself for the battlefield, trooper! The "Courage" badge is one of the most integral awards a Folk Army cadet can earn, and is the first step to developing your skills in bravery, eagerness, and willpower.
Courageous troopers can earn this celebrated badge after they've completed their first public performance in front of a crowd and felt the rush of adrenaline and excitement that every performer feels when they're on-stage.
Remember that courage isn't just about overcoming your fears — it's about being prepared, learning your role, and being confident in your own abilities. Troopers that collect the "Courage" badge will have taken the first step to a wide variety of other accolades, and are well on their way to being inspirational performers!
Theory
Heads down, troopers! Just like any skill, learning music requires knowledge, experience, and understanding. Grasping the true power of music means delving into each element of a song or melody, realizing the lessons that they have to teach, and implementing those lessons into your own work.
The "Theory" badge demonstrates that you have an active interest in learning everything about music, and are excited to continue developing your skill set to truly become a professional.
Troopers can earn this badge by completing some of the Folk Army Ranks' online courses that relate to musical theory, and demonstrating that they understand this material to an instructor by completing an evaluation. Once you've collected the theory badge, you'll realize that music is much more powerful than sound alone!